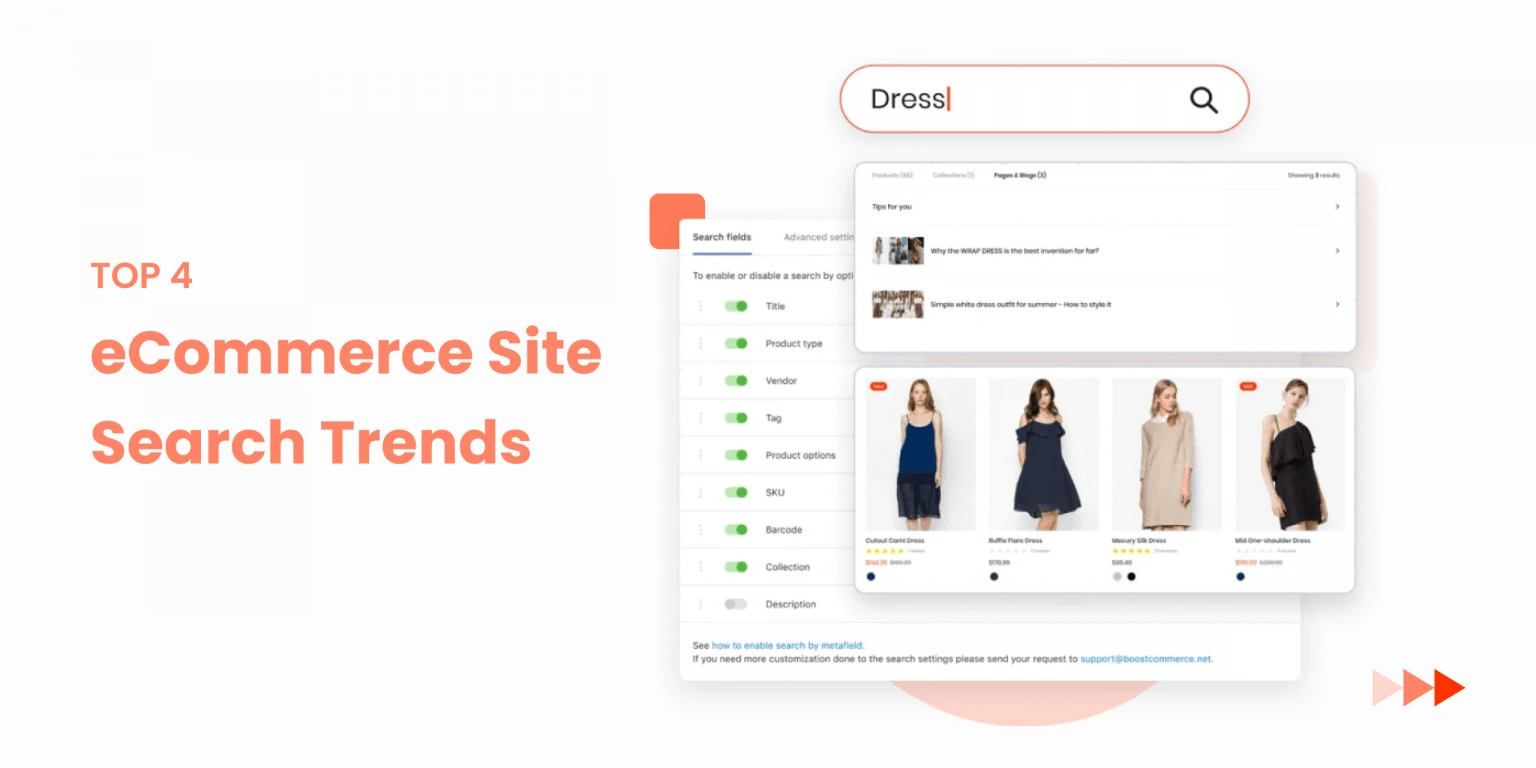 Site search solutions lead your customers to their preferred products instantly without any hassle. That's why it's time to use them to level up your strategies and boost sales.
eCommerce site search helps store owners improve search performance that stimulates your business growth. According to Baymard, search is the preferred product finding strategy as it is faster than category navigation. Although online shoppers enjoy using this function, 61% of eCommerce sites are performing below an acceptable performance. Consequently, visitors will look elsewhere rather than staying with you and making a purchase.
To yield relevant results to even the most complex search queries, here are optimal search trends that you need to drive more sales when building an online store.
Uprank Searches with Smart Autosuggest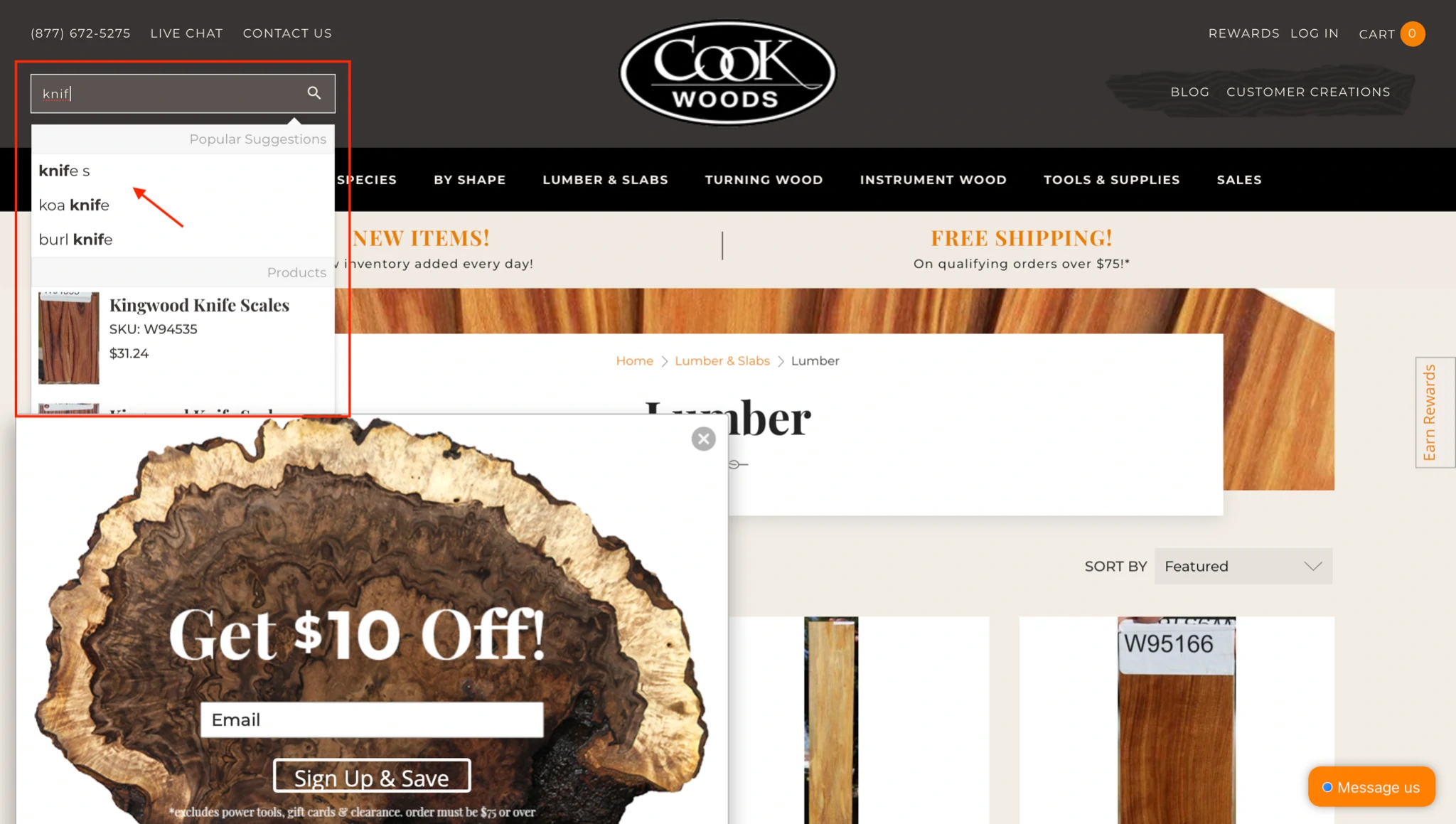 What is autosuggest? It's when a visitor starts typing a search term into the search box and the search engine suggests related terms to your potential customers. Let's take Cook Woods site search as an example here. Once a visitor is typing 'knif' into the search box, it immediately displays instant search results with popular suggestions like 'koa knife', 'burl knife', and relevant products such as Kingwood Knife Scales.
Thanks to intelligent autocomplete, your eCommerce site search engine can suggest the products or categories most commonly associated with that user's search term. Hence, online shoppers will find what they are looking for more quickly and accurately. According to a study by Nacho Analytics, adding search autocomplete can boost digital sales by 24%. This feature is making money because it helps e-merchants understand customers, create an outstanding user experience and even promote specific merchandise in a natural and helpful way.
If you want to know how to make use of this functionality, here are some practical tips from famous brands.
To make suggestions stand out, don't forget to highlight suggested results for better scannability as Eastwood Guitars has been doing. The brand emphasizes how relevant their recommendations are by making search words bold in the results.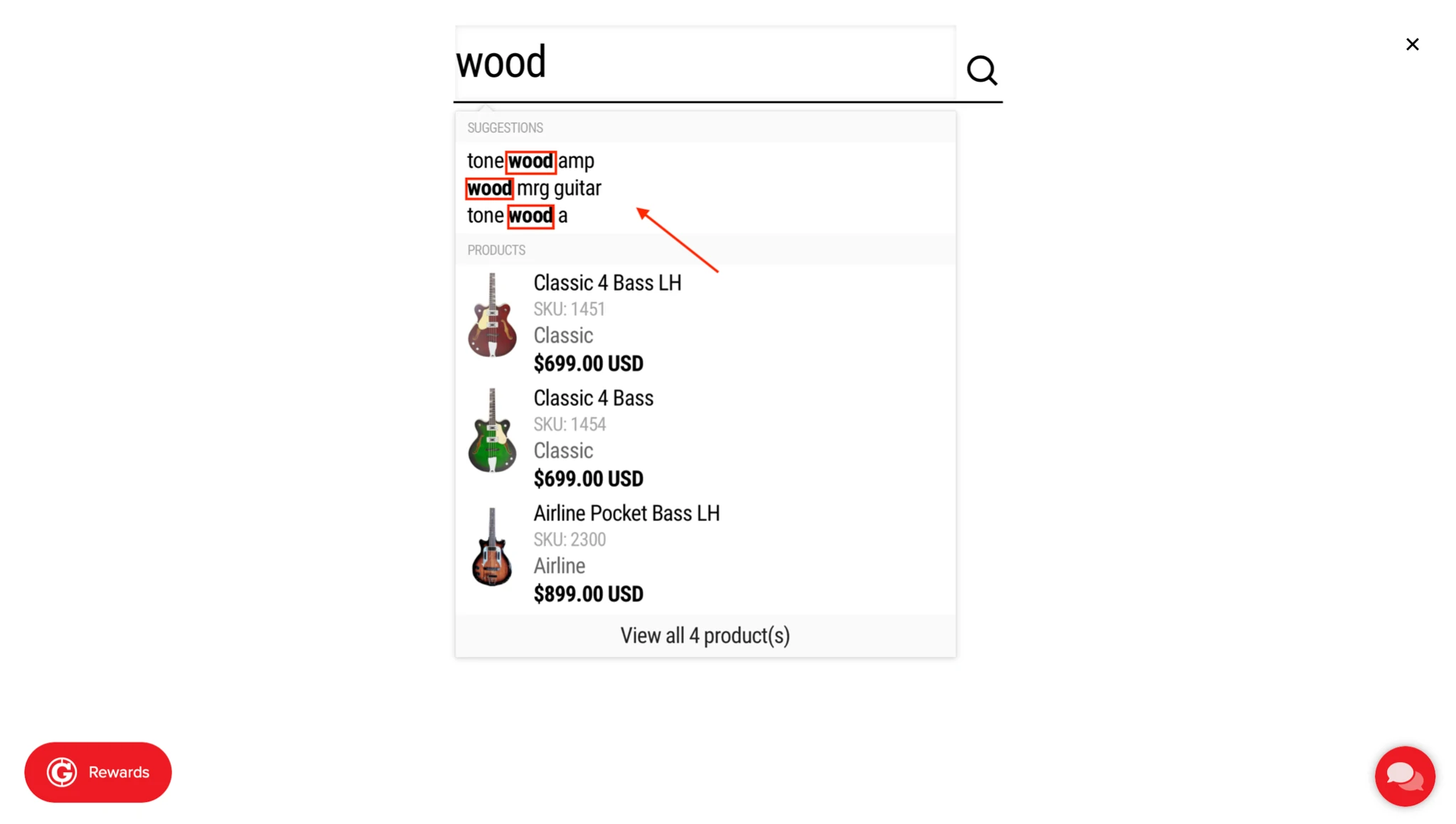 Another way you should consider is to team up with a federated search. In a few words, federated search delivers results from different sources onto a single interface. Therefore, it can expand the range of search results consumers can access and help them find what they need within seconds.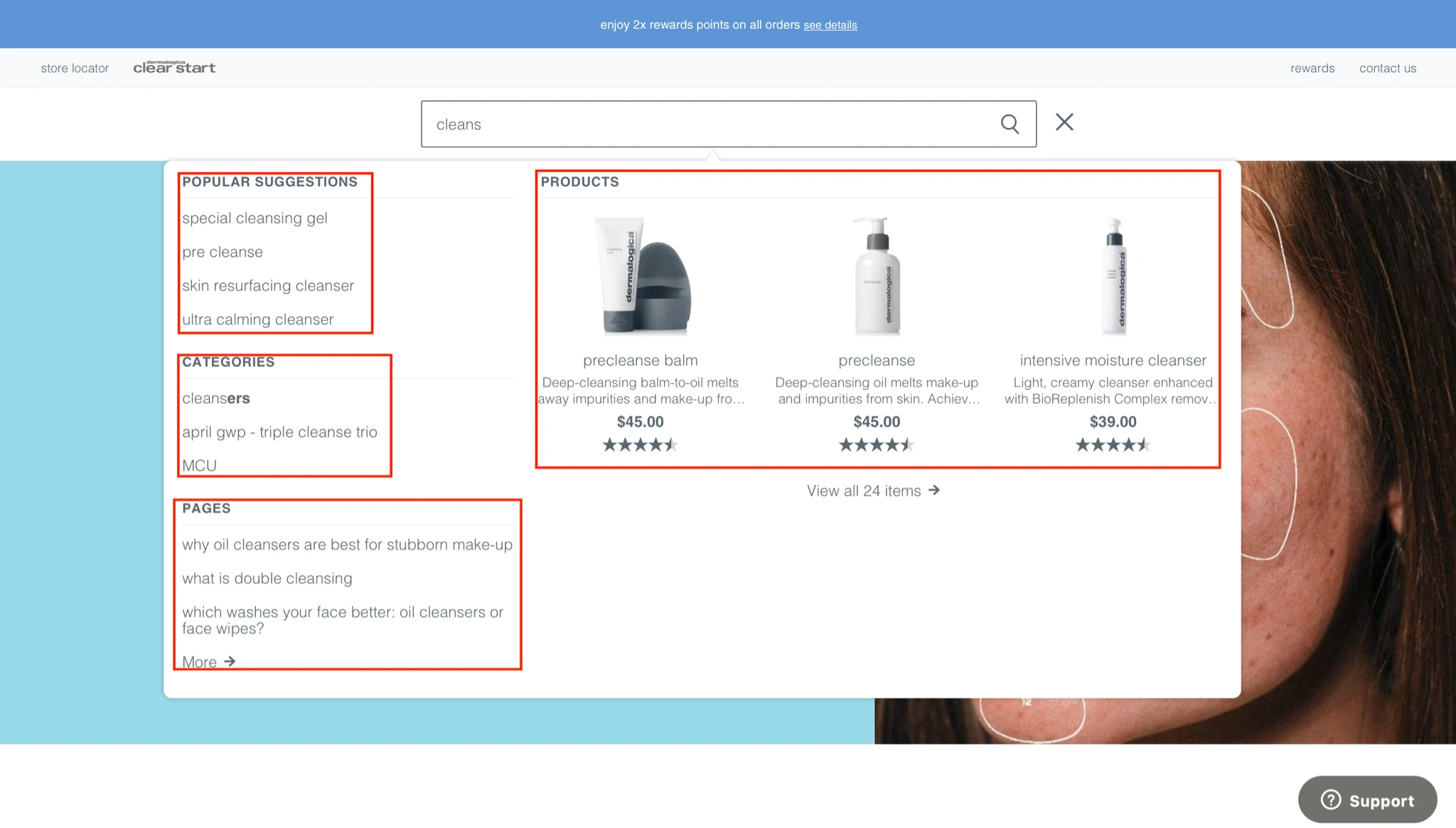 To be more specific, take a look at Dermalogica's instant search results. With a few keystrokes, a user is served relevant products, related categories, and useful guides.
Also, you should limit the number of generated suggestions to keep your autocomplete list manageable and avoid causing shoppers a degree of choice paralysis. According to Baymard, the list will work best at a maximum of 10 recommendations on desktop, and 8 on mobile.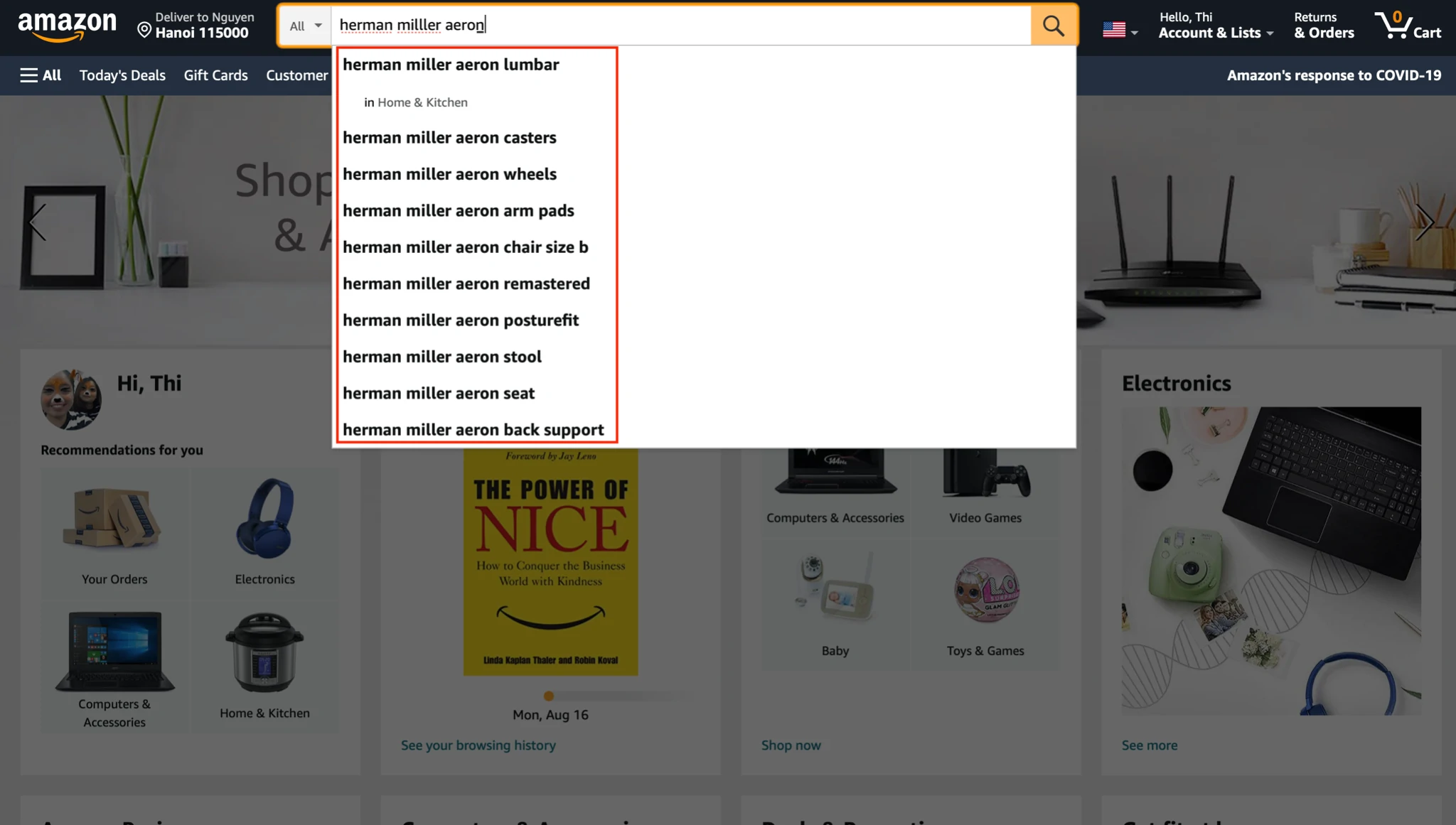 Amazon desktop site limits the number of suggestions to 10, creating a compact list that online consumers can view at a glance for easier decision-making. (Source: Amazon)
Apart from saying no to a lengthy list, make sure you exclude some redundancies as they will overwhelm your customers to select a relevant option. To give them the best suggestions related to what they are searching for, take your time and dig deeper into search analytics that reveal top search queries.
Browse Your Products with Faceted Search
It would be remiss if we did not mention faceted search to improve your eCommerce site search. This term refines search results to bring customers their desired products easily by selecting the facet options. Plus, it offers shoppers a chance to play with filters smartly.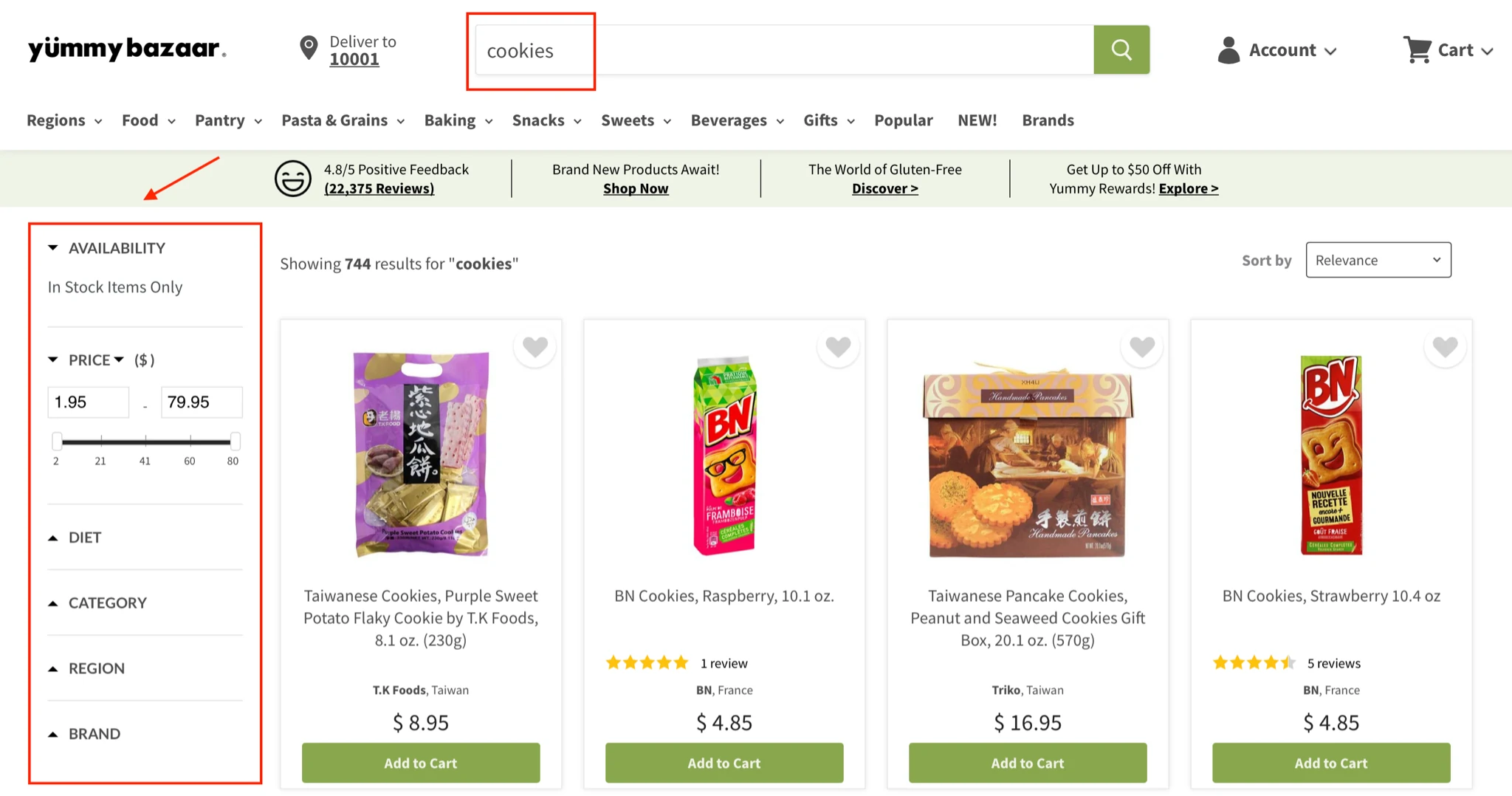 No one has enough time and patience to scroll down and look through over 700 cookies products. Understand that, Yummy Bazaar gives their online shoppers a clever solution using faceted filters, which is reducing the results based on their preferences. Simply, customers just need to choose their favorite diet, brand, price range, and region.
There's no doubt that the use of faceted filters helps visitors narrow down search results and increase their chances of finding a product that interests them. As a result, you will enhance their likelihood of making a purchase to boost sales. However, you are probably asking yourself 'What kinds of filters should I add to my online store?', right? Don't worry as we have compiled the most essential filter types to maximize conversions and speed up customers' buying decisions, which are price, brand, user ratings, size, and color.
Now, let's see how the following brands from various industries utilize these facets to bring their customers an enjoyable shopping experience.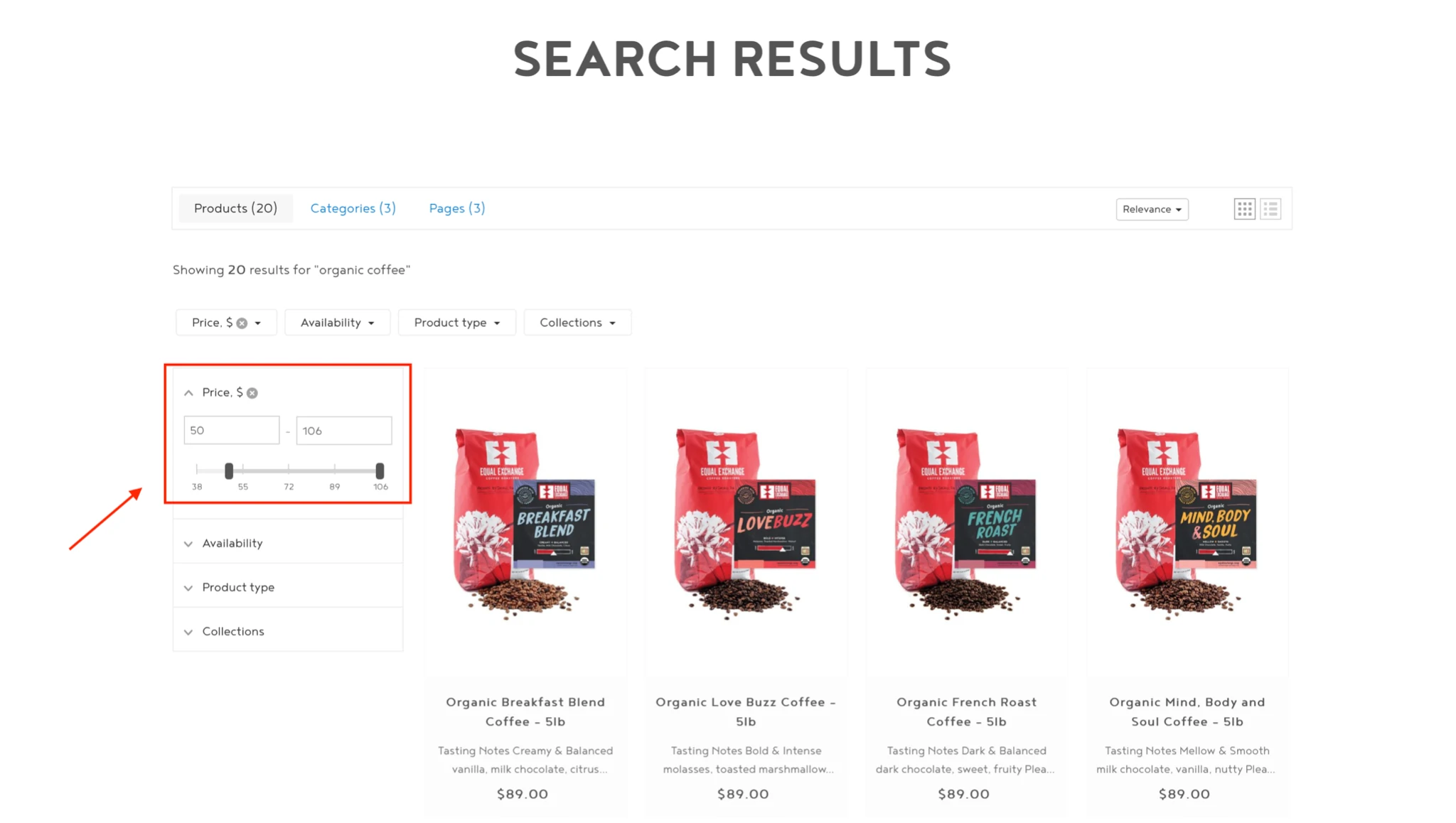 About 80% of buyers filter products by price and they often have an idea of how much they can afford. Equal Exchange allows shoppers to define their price with a price filter including a range slider and price range options. (Source: Equal Exchange)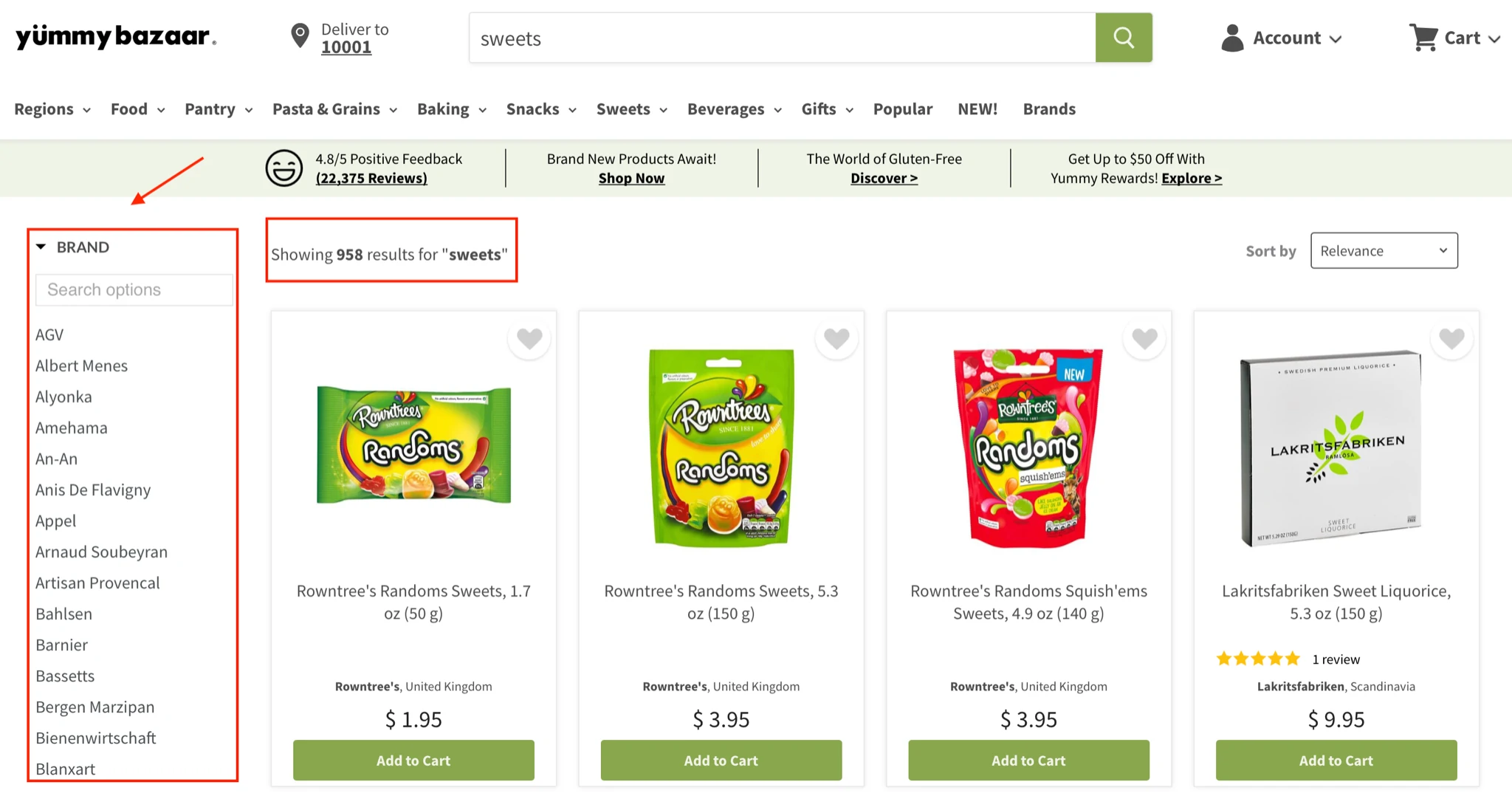 Brand consciousness is common, particularly in the apparel, cosmetics, and food & beverage industry. People are more likely to find well-known names if they want to try something they have never experienced. A brand filter with a search box like Yummy Bazaar's creates a more user-friendly experience where customers do not need to keep scrolling down to find the ones they like. (Source: Yummy Bazaar)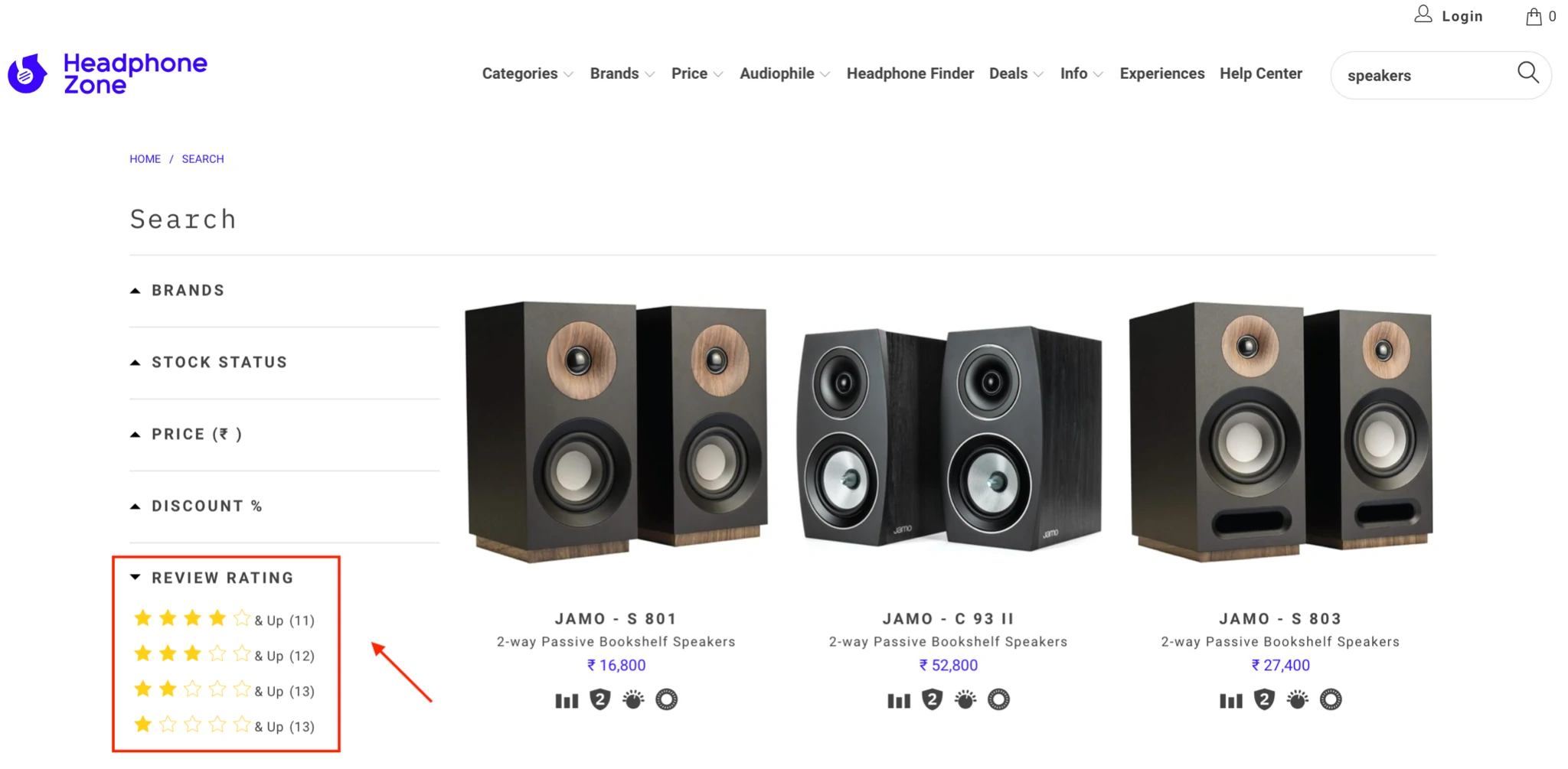 Before purchasing an item, consumers want to know its value for money, so 45% of them responded that users' ratings are the top reason for online shopping. Thanks to the review ratings, shoppers feel higher confidence in buying Headphone Zone products. (Source: Headphone Zone)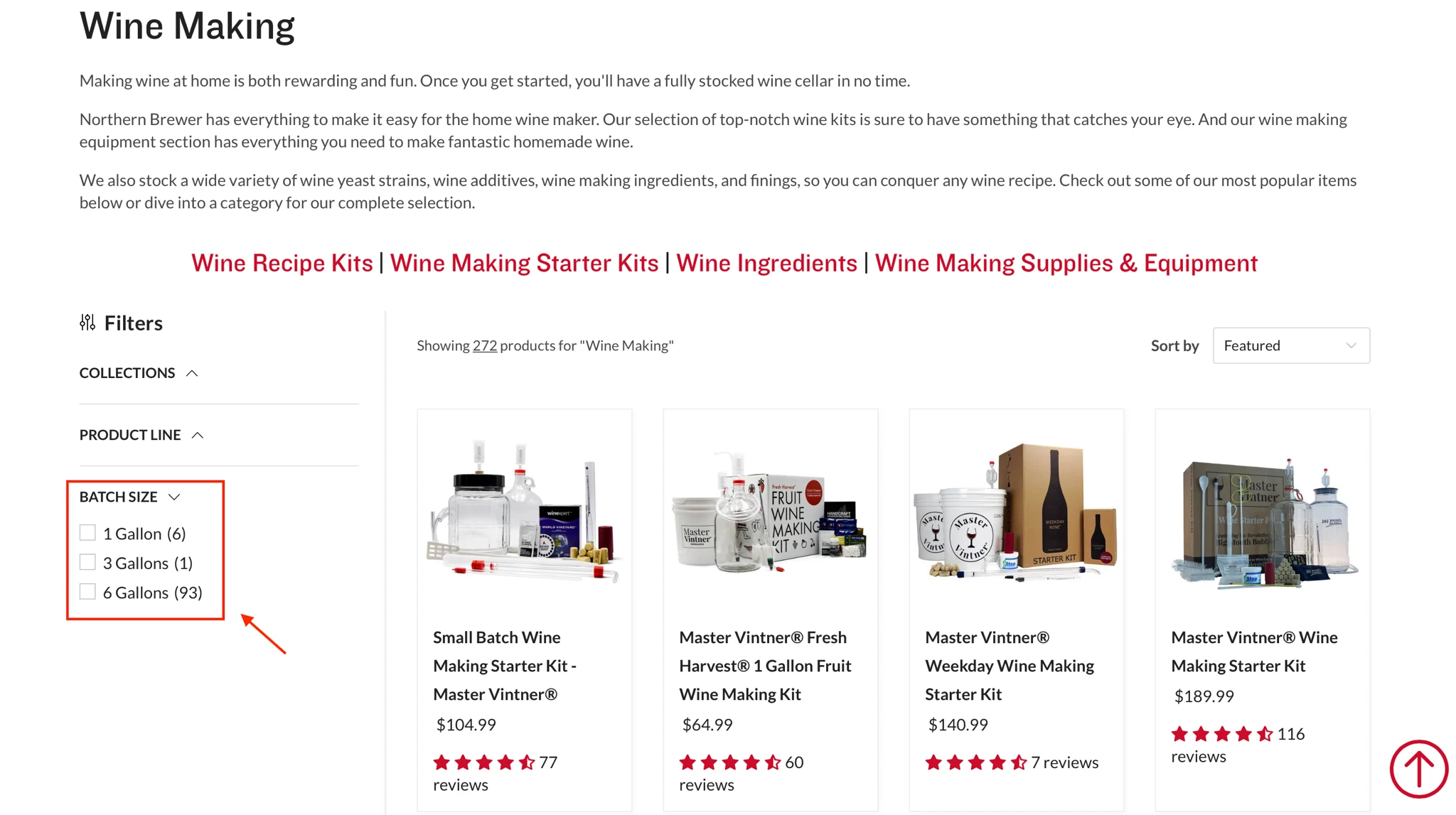 Size is an essential attribute as your consumers can quickly exclude unsuitable products from the list. Northern Brewer sets up a size filter for wine-making kits so that e-shoppers will know whether they meet their requirements or not. (Source: Northern Brewer)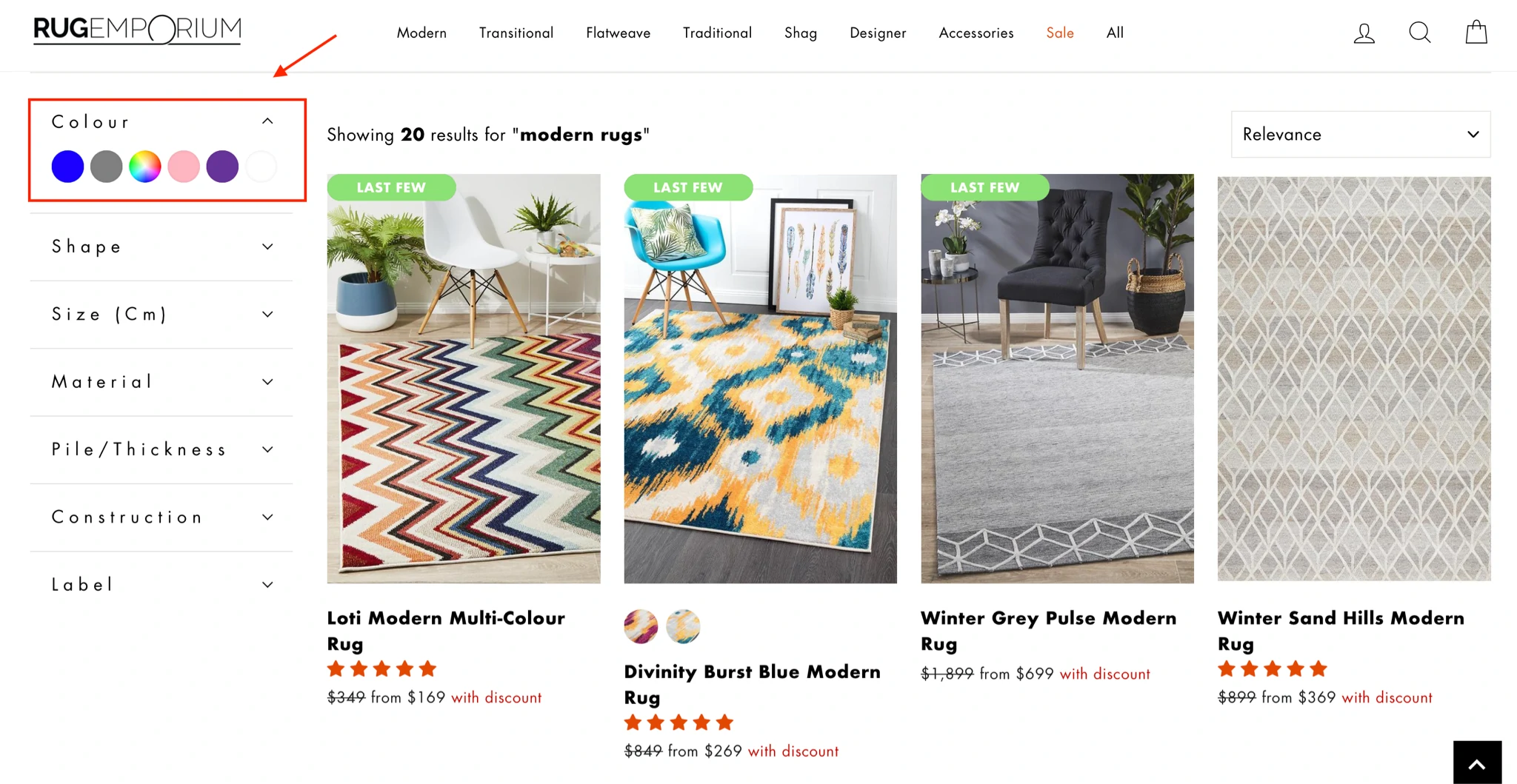 People have color preferences so never disappoint your consumers by letting them buy a product in unwanted shades due to the lack of color filter options. (Source: Rug Emporium)
In reality, eCommerce sites provide additional filter types depending on specific categories such as height, location, technology, and so on. However, adding these 5 basic filter types is the very first step to create 'a state of art' UX that improves conversion rates.
Provide Personalized Recommendations
Digital commerce is on the hunt for the holy grail of personalization to adapt to consumers' expectations. Personalization in eCommerce is the process of delivering personalized experiences on eCommerce sites by dynamically showing content, product recommendations, and offers based on visitors' previous actions, browsing behavior, purchase history, demographics, and other personal data. Therefore, you will find it easier to engage potential shoppers, increase repeat purchases, drive sales, and skyrocket conversions.
When it comes to personalized site search results, beyond relevancy and content boosting, it is also about taking details, for instance, language, location, search history, or the device used to access the search engine into account.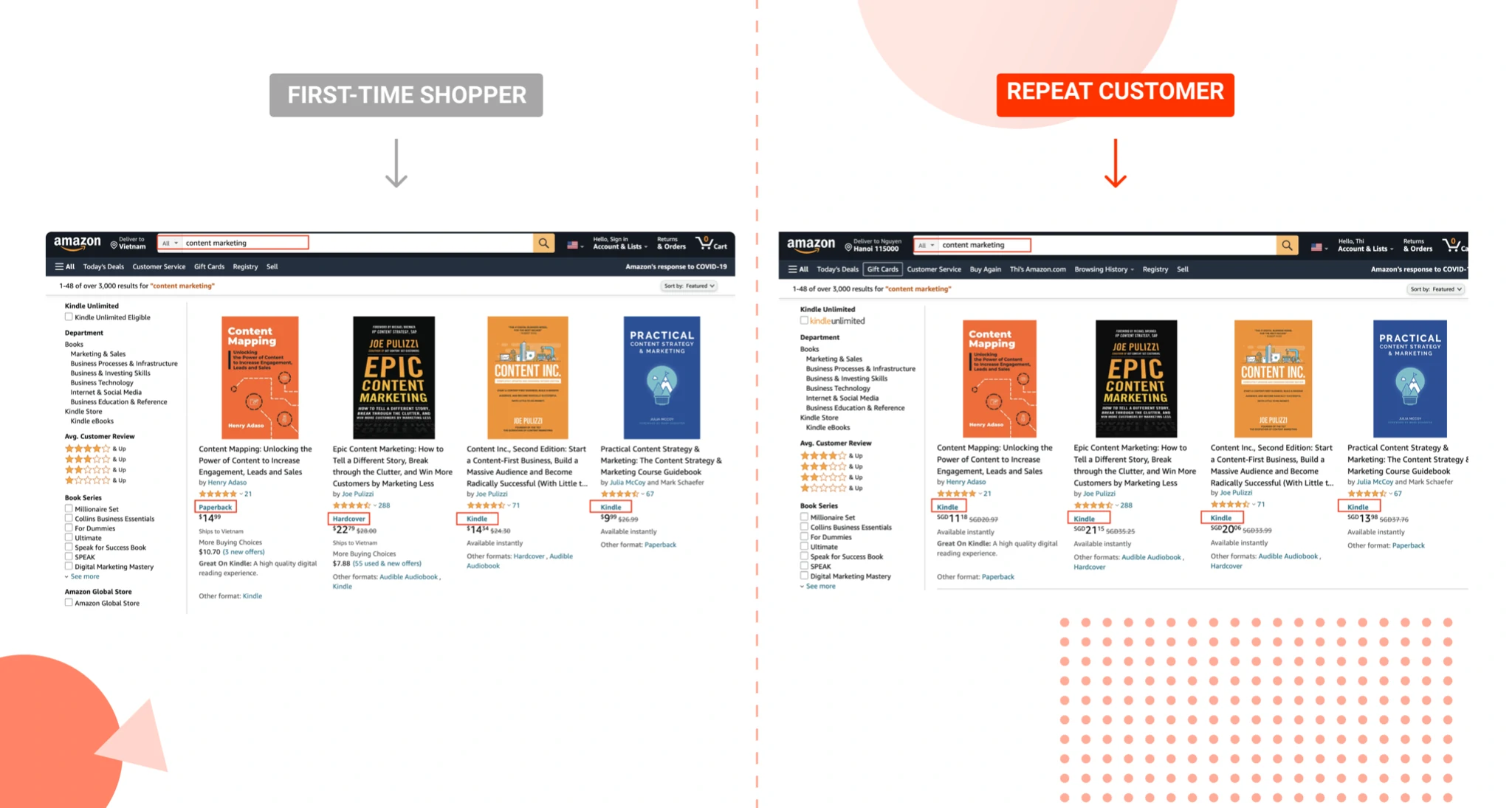 The search results displayed for a first-time shopper and for a shopper who purchased several books in Kindle format. (Source: Amazon)
Amazon is great at offering online shoppers personalized product recommendations. This giant retailer pays attention to every click and purchases their consumers make. Looking at the above images, you can see how the search results of an existing customer are different from those of a first-time visitor when both searched for content marketing books. While the search result page showcases various formats to the newcomer, a repeat consumer, who has bought some digital books before, receives the same books but in Kindle format.
This is an example of how you should actively listen to what your online customers are telling you and tweak the experience so it is more engaging every time they go back to your store. The dynamic personalization in eCommerce site search will incentivize them to stay longer and enhance the likelihood of payment.
Humanize Search Results with Natural Language Processing
One of the main reasons why online stores do not give customers accurate search results is site search works on algorithms instead of human language. In fact, online shoppers often use search terms that are closer to natural speech instead of your products' names. Hence, it is hard for machines, who speak in codes, to properly understand what they want.
And that's when natural language processing (NLP) comes in. Basically, it is an AI-based solution that makes computers understand, interpret and manipulate conversational language. Thanks to this powerful tool, it is possible for the eCommerce site search engines to provide the same results for synonymous terms. As a result, you can prevent mismatches between what online shoppers search for and the search results.
Take 'tops' vs. 'shirts' as an example. You might search for tops from Nordstrom. When you type in the term, it pulls up t-shirts, tank tops, and tops. In this way, NLP helped you to find what you were looking for, even though you used a different term.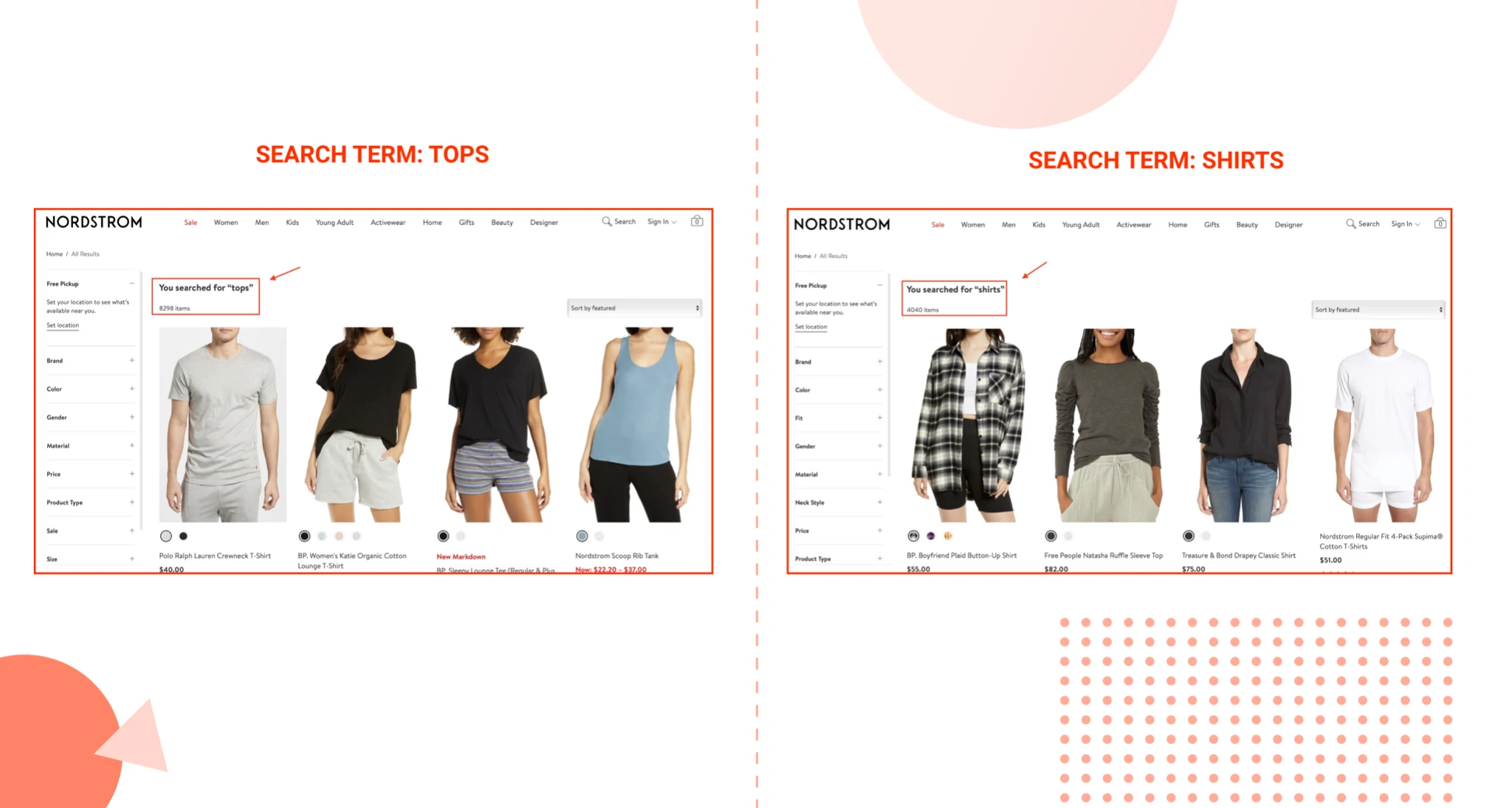 Get Ready to Harness eCommerce Site Search
The next step to enhance your eCommerce site search experience is to implement those site search solutions, and if you are thinking about a third-party app to bring your store to the next level, Boost Product Filter & Search will be the right choice. From advanced product filters, smart searches, and instant suggestions paired up with insightful analytics of buyers' behaviors, this app will help your customers find relevant products within milliseconds that boost sales.